About Pleasant Ridge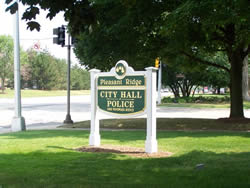 Designated as an historic community, Pleasant Ridge offers residential charm in an urban location. Its long tradition of community pride is reflected in the tree-lined streets, pristine neighborhoods and picturesque parks.
Offering a broad range of architecturally diverse housing choices, from cozy bungalows to stately colonials, The Ridge has been recognized by This Old House magazine as one of the "Best Places in the Midwest to Buy an Old House." But that glorious past is alive and kicking its way into the future. With its strong sense of community spirit, dedication to historic preservation and an ideal metropolitan location, Pleasant Ridge is a great place for all ages, interests and lifestyles.
Pleasant Ridge is part of the Ferndale School District which offers a unique choice between traditional public school and its University High School, a college prep high school offered through a partnership with Lawrence Technological University.
In Pleasant Ridge, you'll be welcomed to a community with a warm heart and creative soul that embraces different lifestyles and perspectives essential to a true urban region. Its many clubs and volunteer organizations take a front seat on all projects and city improvements and resident involvement is readily accepted and appreciated.
The "heart" of the City beats strong at the Community Center Complex, offering a pool, wellness center and a diverse range of programs and recreational opportunities. People in this community value one another for who they are, where they are.
Come enjoy the view from The Ridge and see what you've been missing.